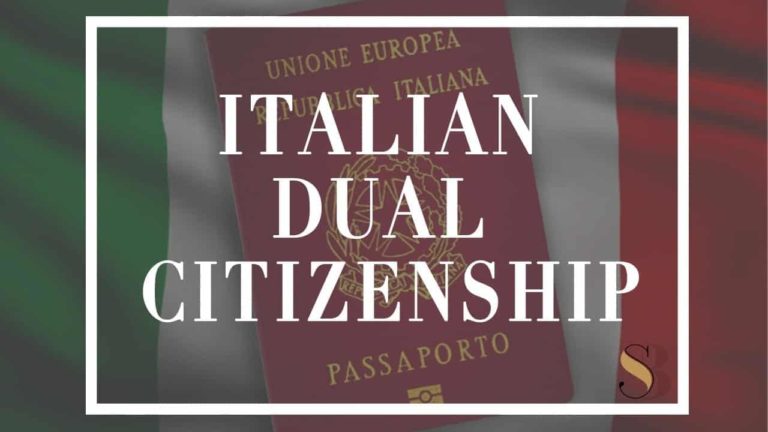 Italy Dual Citizenship & Italian Citizenship by Descent: The #1 Guide
The #1 Simplest Guide to understand main Characters of Italian Citizenship by Descent and Dual Italy Citizenship.
Do you have Italian ancestors?
If so, you may qualify for Italian dual citizenship from your heritage alone.
This type of dual citizenship is called "dual citizenship by descent," reclaiming citizenship of another country through jus sanguinis (right of blood) while maintaining citizenship in your country of birth.
For Italian descendants around the world, the idea of reclaiming the citizenship of Italian ancestors has become very popular.
However, the benefits of reclaiming Italian citizenship might very well be worth the wait!
Italian-dual-citizenship-italian-citizenship-italian-dual-citizenship-italian-citizenship-assistance-italian-citizenship-by-descent-assistance-italian-citizenship-lawyer
8 Ways You Can Benefits from Italian Dual Citizenship
Become Italian Citizenship can really be an amazing investment, for You and Your family, as we previously talker also in this article and also here.
By the way, some benefits are:
Reconnect with the heritage and culture of your ancestors.

Travel more easily in certain regions and countries (Schengen Area).

Access government-run medical insurance (if you plan to reside in Italy or during your travels in the country).

Find jobs more easily in the European Union.

Live in Italy and purchase property without as many requirements.

Enjoy lower college tuition costs in Italy.

Vote for leaders in certain Italy elections.

Access investments available only to European Union citizens.
How Do I Get Started with italian Citizenship Jure Sanguinis?
Italian-dual-citizenship-italian-citizenship-italian-dual-citizenship-italian-citizenship-assistance-italian-citizenship-by-descent-assistance-italian-citizenship-lawyer
To apply for Italian citizenship by descent, you need to prove your eligibility by presenting required records for your Italian ancestors.
Present these documents (with apostilles and translations) at a citizenship appointment with your Italian consulate (if you live outside of Italy) or your town hall (if you reside in Italy).
A new third option is opening now in Italy: the Italian Citizenship Application through Italian Court.
This way is become more and more convenient – as processing times at the Consulates are long and almost-infinite – and the Applicant can just apply without coming to Italy or passing through a Consulate.
We already talked about in this Articles.
Each consulate has some discretion as to what documents they require, so it's wise to find out more from your Italian consulate before gathering your documentation.
Need Help on Your Italian Dual Citizenship?
Contact Us Now for Start Applying with Us!
Italian Nationality Laws That May Affect Your Dual Citizenship
While having Italian ancestors is the key requirement for dual citizenship by descent, some Italian nationality laws may affect your eligibility.
These laws may have affected your immigrating ancestor's Italian citizenship or may affect whether you can claim citizenship from your ancestry.
As you find your Italian relatives' records, consider the following questions before applying.
Where Was Your Italian Ancestor Born?
The Veneto, Friuli Venezia Giulia, and Trentino areas of northern Italy were previously ruled by Austria.




If your ancestor left these areas before 1920, they may not have Italian citizenship, and you will need to check if they requested citizenship later during their lifetime.




A new amendment involving descendants from these areas is in the works, so if your ancestor is from one of these regions, it would be wise to clarify current laws before beginning a dual citizenship application.

When Did Your Italian Ancestor Immigrate to a New Country?


If your Italian ancestor emigrated before Italy became a country (on March 17, 1861), they may not have had Italian citizenship through birth.

If the ancestral line you descend from lost Italian citizenship (because they naturalized with another country between 1912 and 1992 or other reasons), you may not be able to claim citizenship as their descendent. An important point is to find out whether your immigrant ancestor naturalized before or after the birth of the child you descend from. If after, you may still qualify!

If your ancestor immigrated after 1992, dual citizenship may have been granted to them already, and you may only have to declare your citizenship to take advantage of this opportunity.

Was Your Italian Ancestor Male or Female?


Some older Italian laws may have affected whether female Italian ancestors could pass citizenship to their descendants and whether your ancestor gained or lost citizenship when they married. 
In this cases, You can be eligible only through Italian Court Application, wellknown as 1948 cases. 
We talked about them in this article.

Was Your Italian Ancestor Adopted or Were You Adopted into an Italian Family?


Multiple laws govern adopted children and their rights to Italian citizenship. If your adopted ancestor was not registered in Italy while still considered a minor, your Italian consulate may challenge your citizenship application.

How Old Was Your Ancestor When They Immigrated?


Every country has different laws about the naturalization of children. You may want to research some of these laws if your ancestor was a minor when he or she immigrated
Need Help on Your Italian Dual Citizenship?
Contact Us Now for Start Applying with Us!